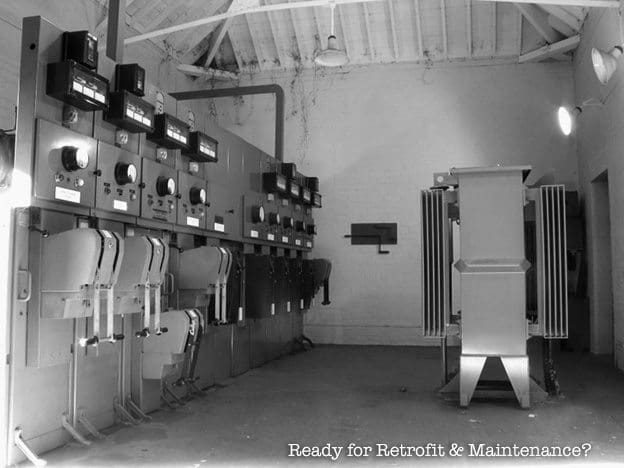 Options to Improve Safety on Ageing Switchgear
Retrofitting
Retrofitting is defined as adding components to equipment on site so as to achieve additional features or ratings. A number of different retrofitting options are available that will improve the safety of ageing switchgear installations.
1. Retrofitting Oil circuit breakers with SF6 or Vacuum
Some switchgear manufacturers have designed modern SF6 or Vacuum circuit breakers that are fully interchangeable with the installed oil circuit breaker enclosures. This allows for increased safety and lifetime extension to be achieved at approximately half the cost of a total replacement of the switchboard with new equipment.
In the majority of cases additional features such as motorised mechanisms and higher fault ratings can also be achieved by retrofitting a circuit breaker.
Figure 1 shows the catastrophic nature of an oil circuit breaker failure with figure 2 showing an SF6/Vacuum circuit breaker failure for comparison.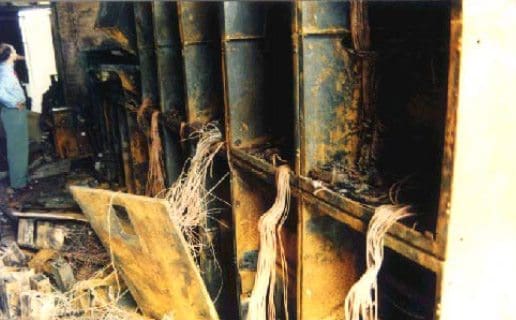 2. Retrofitting remote switching facility
Accident experience has proven that the majority of switchgear failures occur during or shortly after an operation. It makes sense to operate old switchgear remotely thus ensuring operator safety. Dependant manual operated switchgear can be retrofitted with remote actuator mechanisms.
Remote electrical operation facilities can be wired into existing control schemes.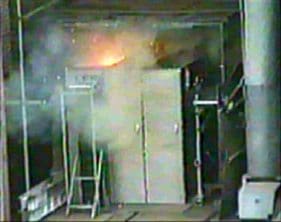 3. Retrofitting Internal Arc Rating
The ultimate operator protection is achieved when even during equipment failure the safety of an operator in the substation is ensured. This feature can be fitted on site to some types of switchgear at a relatively low cost.
It must however be noted that due to the catastrophic nature of oil circuit breaker failures, this feature cannot be retrofitted to oil switchgear unless the circuit breaker is changed to SF6 or vacuum.
Figure 2 shows how hot gasses are directed away from the operator on arc vented switchgear.